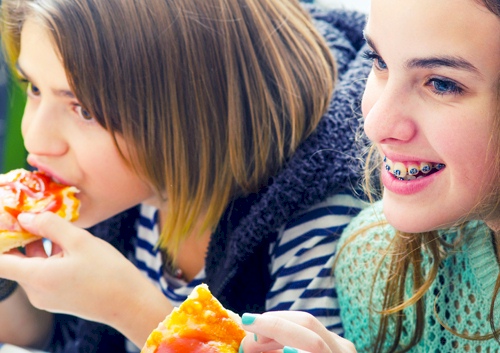 We all know that kids can be picky eaters. How many times have you seen your child try to hide their greens under their mashed potatoes?
At Moser Orthodontics, our team understand the challenges to get your child to eat the recommended daily allowance of fruits and vegetables. This task becomes even more challenging if your child is wearing braces. It's an age-old saying that breakfast is the most important meal of the day, that's why we're providing you with some nutritious breakfast ideas that are not only kid friendly, but braces friendly as well!
Scrambled eggs are soft and easy to eat with braces.  You can add ketchup to make it even mushier.  Minimal chewing is required, and that's the key to a braces-friendly recipe.
Smoothies are another great choice for breakfast. They pack essential vitamins and energy to jump start your child's metabolism.  Not only are smoothies gentle on your child's braces, but they're also easy and fun to prepare. You can toss fresh or frozen fruits including bananas, mangoes, strawberries, and create a drink that's loaded with vitamins and antioxidants.
You probably know that eating crunchy cereals or granola can lead to lots of discomfort or even cause wires to snap or dislodge the brackets.  That's why substituting crunchy cereals and granola with oatmeal cereals is a good choice. You can even sweeten the oatmeal with syrup, jam or vanilla extract.
Pancakes are not the healthiest breakfast choice. Still, this weekend breakfast favorite is braces-friendly. The idea is to make it healthier by hiding blueberries in the pancake batter just like your child hides peas in the mashed potatoes.
Toast with jam is ok, but try to skip the peanut butter on the bread. The general rule of thumb is to steer clear of foods that are hard or chewy. These types of foods can break wires. Of course, most kids will agree that toast isn't the most exciting breakfast recipe, so make it a Pop-Tart instead!
There you have it.  Some tasty breakfast ideas that will surely put a smile on your child's face every morning!
The San Diego Orthodontic practice of Dr. Lindsay Pfeffer and Dr. Noel Moser, recognize that every patient is different, and we work hard to cater to the unique needs of each patient. We offer the latest in dental braces and Invisalign, plus we treat our patients like family and will go out of our way to make them smile from the inside out!  For a free consultation, call us today at 858-756-6878.