When calling after hours for assistance, leave a message regarding your issue on the voicemail of our 4S Ranch office location, at 858-756-6878, and a team member will return your call as soon as we return to the office. In the event of an emergency that cannot be corrected at home with the use of this information, with severe pain, swelling and bleeding, there is always an on-call person. Call our emergency line if this is the case.  If you are in need of changing or canceling an appointment, please leave a voicemail on the office line, as the emergency on-call person is not in the office and does not have the ability to address appointment problems when not in the office.
Please note: A loose bracket is not an emergency, but please contact the office to let us know that there is additional time needed at the next appointment to fix it.
Broken Brackets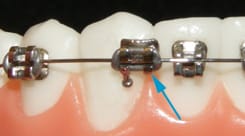 Broken brackets are uncommon when avoiding the appropriate foods. However, if it does happen do not worry. Broken brackets on the back teeth can be clipped at our office or at home and will be re-glued at your next scheduled appointment. Broken brackets on the front teeth will be re-glued within a week or two of breaking. Please call our office at 858-756-6878 to schedule your emergency visit if it is needed
Poking Wires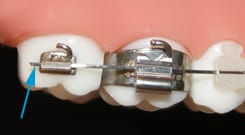 If your wire is poking your cheeks give our office a call to we can schedule you to come get them clipped. This is a normal and means that your teeth are moving and space is closing, which is why we refer to them as "progress pokes". If this happens over the weekend or when you are out of town you can always trim the wires yourself with a clean nail clippers or wire cutters.
Poking Metal Ties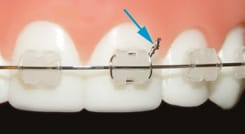 While in braces you may have metal ties tied around your brackets. The ends of these metal ties are tucked towards your tooth and away from your tongue or lips. However, sometimes while eating the end of the tie may turn and poke at you. To alleviate a poking metal tie simply use your finger or something small to turn the tie towards your tooth again.
Loose Expander 
If your child's expander no longer turns and spins where you normally turn this means that you've reached capacity of expansion. Direct your child to not spin it or play with it with his or her tongue. We will correct this issue within the week but it is a common occurrence that is easily corrected with a visit to the office
Please do your best to always call the office and make appointments for things you or your child may need between regularly scheduled visits. We are open Monday-Friday from 8am-5pm, our office phone number is 858-756-6878