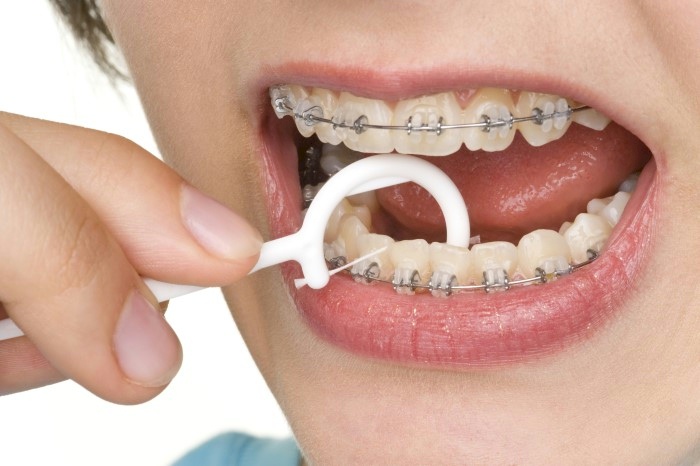 Our San Diego orthodontics team at Moser Orthodontics knows how important oral hygiene is, whether you have braces or not.  If you do wear braces, caring for your gums and teeth can be a little challenging. If you aren't practicing daily oral hygiene, you can become more prone to tooth decay, and cavities during your treatment time.
Make sure to brush your teeth every morning and night, also after you finish eating, this will help keep your mouth clean and free of bacteria.  Flossing is another important part of your hygiene routine.  Flossing with braces can be hard, but not impossible.  We can help you be more comfortable and teach you how to properly floss your teeth while you have braces.
Flossing tips for patients with braces:
Flossing Under Wires: When the floss is behind the wires, use your hands to move the floss up and down along the wires to remove food.
Flossing Between Teeth:  Floss between your teeth like usual without braces, move the floss up and down between your teeth.  Make sure to use a clean section of floss for every tooth.
Once You Finish Flossing, we suggest you use a proxy brush or water pik after you finish brushing your teeth.  Anyone of these tools can help remove any loose food and make sure that your braces and teeth are clean.
Keep Up Good Oral Hygiene Habits
Having good oral hygiene habits when you have braces can help you get the smile of your dreams.  When you get your braces off, you need to make sure to keep this good oral hygiene routine in check. Make sure to visit your general dentist for regular cleanings.  If you have any questions make sure to visit us or give us a call.
The San Diego Orthodontic practice of Dr. Lindsay Pfeffer and Dr. Noel Moser, recognize that every patient is different, and we work hard to cater to the unique needs of each patient. We offer the latest in dental braces and Invisalign, plus we treat our patients like family and will go out of our way to make them smile from the inside out!  For a free consultation, call us today at 858-756-6878.